centipede
. Seriously we could have put a saddle on this thing.
We had just walked in after the open house for PreK kids at NHL's school tonight when the following happened (Side freak note --> My baby starts school in a week - ACK!).:
I am barely into the dining room and JL screams to me to get a tissue quickly. What the heck? So I look and see they are right near him. I am afraid to ask, but quickly realize just what he's trying to corner. Trapped by NHL's toys that are in the middle of the floor is a monster centipede that is trying to escape. Thank goodness JL managed to get this creature and dispose of it.
YUCK!
I am not exaggerating here. This sucker was at least as long as my pinky finger and much wider with legs factored into the equation. I mean when it moved I saw it's legs moving from across the room.
Seriously these things give me the
heebie jeebies
. Just the thought of them makes my skin crawl. I had never seen them prior to moving into this house and apparently they are rampant with all of our neighbors. I don't mind if they are here since they are harmless and eat spiders, but stay in the basement darn you! Clearly this bad boy had been feasting in a good location.
On that note I am off to read and sleep. I shall report on 4 year old physical fun tomorrow.
C'est Moi
Oh wait, never mind it's just a GIANT
Current Mood:

distressed


NHL - "Which room are we going in?"

Nurse C - "Room 3"

The following is said with all seriousness and was a quick reply.

NHL - "But I'm not 3 anymore!"

Nurse C - "What NHL?"

NHL - "We can't go into room 3, I'm not 3 anymore. I'm 4 now"

At this point Nurse C, my grandmother and I are doing everything not to burst into hysterics. We were ready to die laughing.

Kids!

C'est Moi
Today I took NHL for his 4 year old physical (details coming later - if I stay awake). So my grandmother came with me to help with JSL. NHL is called in and my favorite nurse calls us back. He was weighed and measured. The following conversation took place between NHL to Nurse C.
Current Mood:

amused
this
to me to read.
I was floored by what I was reading. Basically a mother in KY was told that she had to cover her baby's head when nursing at an Applebee's restaurant. When she went to talk with the manager and showed him this was against the KY law he told her the following:


"I know but somebody complained it was indecent exposure so you have to cover the baby with a blanket if you need to breastfeed here."


What a lame response from the manager. There is absolutely nothing indecent about nursing a child. As others in this thread that I linked to mention many people at the restaurant were probably exposing more with their regular garment than this mother was while breastfeeding. So the woman left the restaurant with her children and contacted a lawyer. After quite some time she received a response from corporate.
"we are also considering keeping blankets in the restaurants for use by breast-feeding mothers that may not have them readily available as a result of this incident."
This made me ILL. Applebee's is going to provide someone a blanket to feed their child? WTH! That is also against the law in KY. Others in the thread stated that the people that should be given the blanket are those that complain - rightly so. And if they were to require a mother to cover over because of exposing herself, then what about the women that come in with mini-skirts, bellies hanging out, or low cut shirts exposing their girls? Will they too have to cover over?
Although I personally choose not to do public nursing, I wouldn't want someone to tell me to stick a blanket over my child's head. Most woman that I have seen nursing in public places do it in such a way that you wouldn't really know what they were up to.
So keep this information in mind next time you decide to eat at an Applebee's. I know we are not likely to go there again thanks to this.
C'est Moi

Last night my friend L sent
Current Mood:

annoyed
Last night JL went out to help my grandmother with her computer. JSL went to sleep early and NHL went to bed. I was checking on the boys quickly before I took my shower.
I am just about to leave the room when NHL sees me.
NHL - "Mommy why are you here?"
Me - "Just checking on you and JSL"
NHL - "I need to go potty, then will you sleep on my door?"
Me - "Sure NHL, let's go to the bathroom."
So we walk to the bathroom. NHL was stumbling there like a drunk sailor with his eyes barely open. Thanks to this I offered to help him, since I'm afraid he's half asleep and will pee on my wall.
Me - "NHL, let me help you and then you can go right to bed". I will touch so you won't need to wash your hands."
NHL - "No mommy, I want to touch my penis!"
Yes, ladies and gentleman he is a boy, that's for sure. *sigh*
C'est Moi

I am starting to think the bathroom is going to be a comedy club in our house with two little boys.
Current Mood:

giggly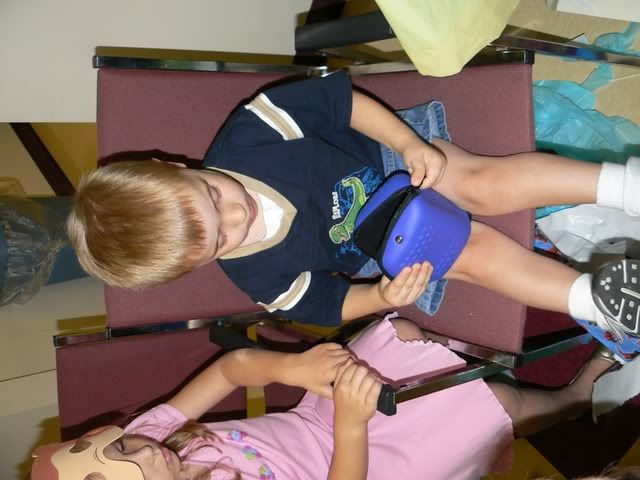 Next thing he knew Grandpa asked him if the following would fit in the case: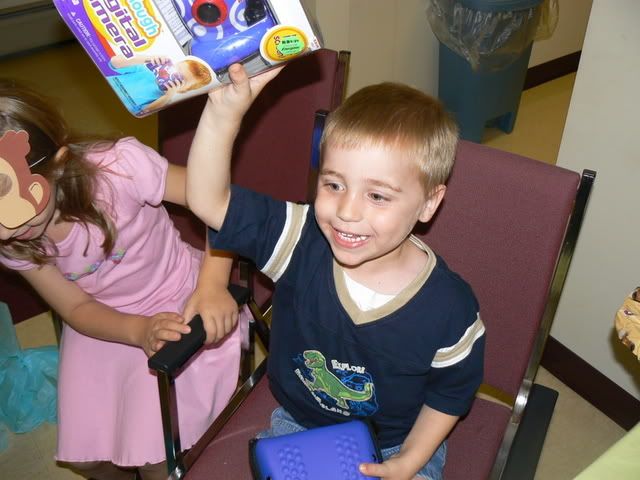 Here are some photos that JL took of NHL using his new Fisher Price camera:
Taking a picture of Daddy taking a photo:
Checking his camera: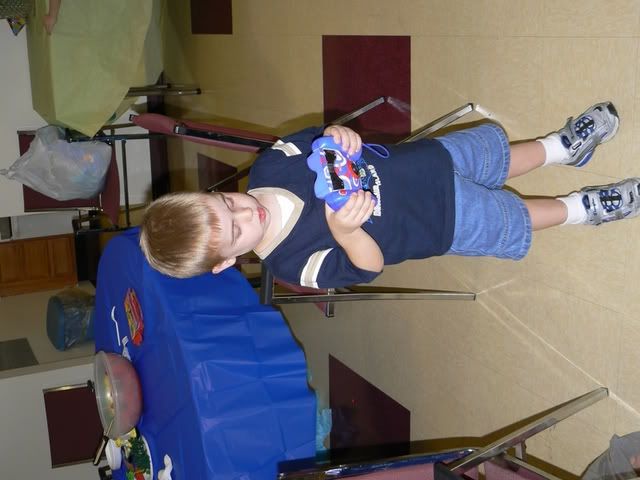 Looking at the photos he took with Cousin A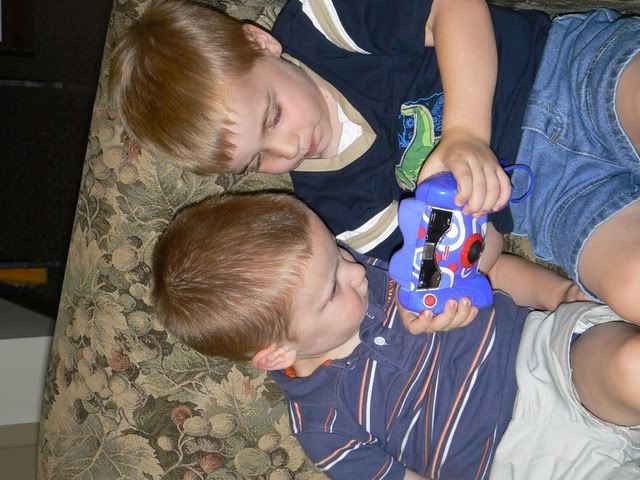 He even held onto it while wrestling his cousin: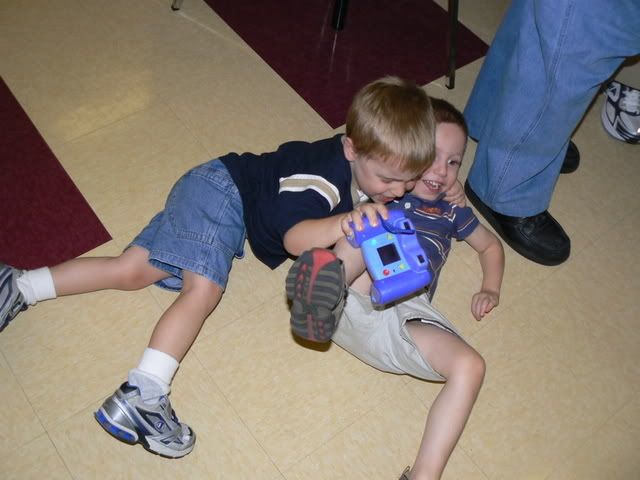 Why is he a camera addict? Almost from the moment he got it until he was half asleep he took 547photos. No you read that correctly. He was taking photos of anything and everything. Then he started composing shots. It was sick . . . he's just like his daddy. ACK!
Here are some of his first photos.
Photo of Daddy: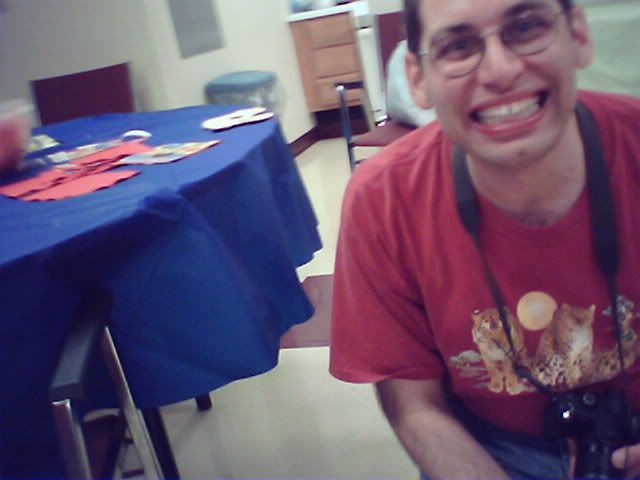 Daddy and JSL:
Even in the car he was taking photos: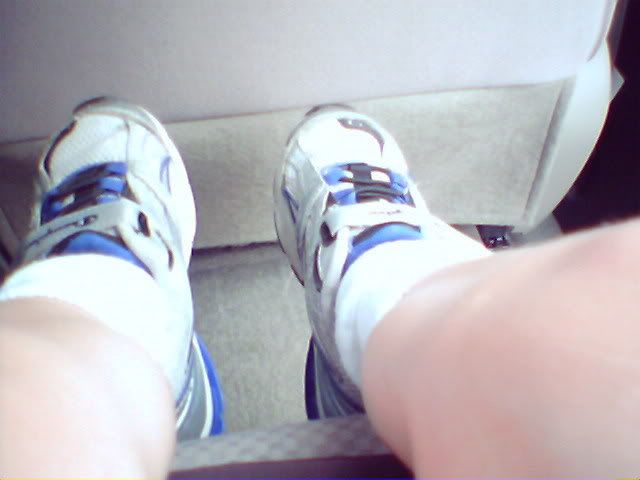 Another car shot of JSL: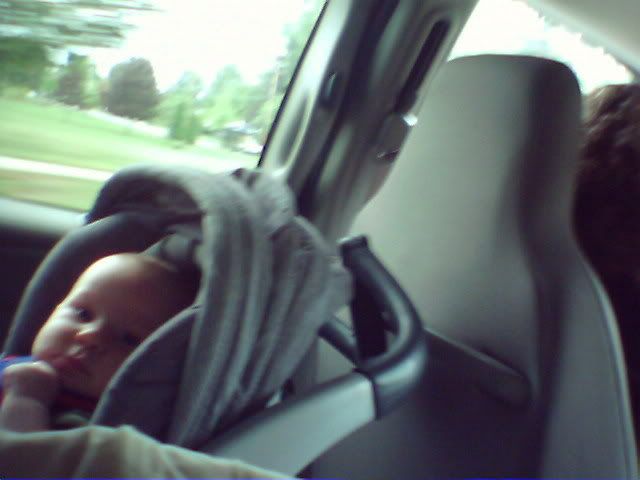 Photo down our street:
Where did Daddy's head go?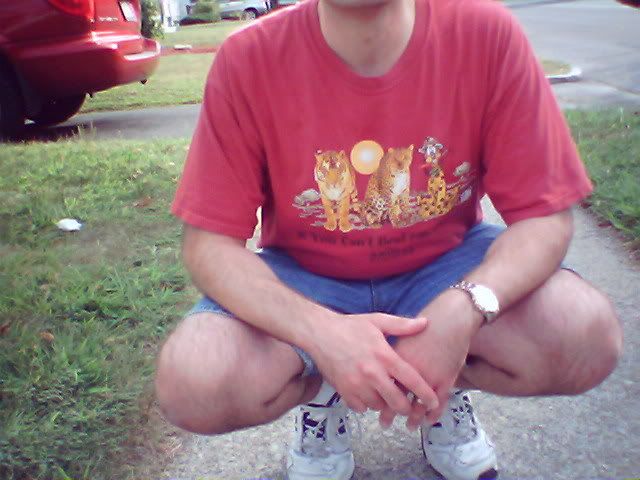 Note the theme of the next few shots (there were a ton more of these):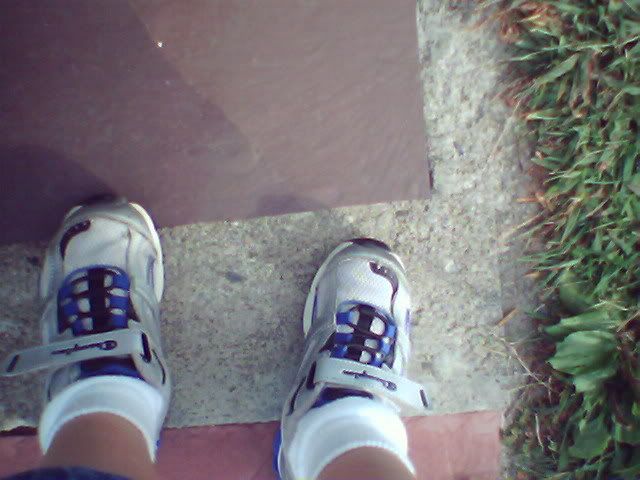 Relaxing on the couch:
Watching Over the Hedge (one of his gifts from L, IA and D):
Did you notice the theme of many of the shots? Strange child I have.
On that note it's time to get the little monkey up to eat. He hasn't eaten in a LONG time and needs something before real bed time.
C'est Moi
For weeks NHL has been drooling and begging for his own camera like daddy. Today was his B-day party for family and friends. I will post more about that later, but wanted this on now. So he opened up a gift from Great-Grandma. It was a camera case and he was a little confused.
Current Mood:

chipper
Red
Car!
The boys and I left the house this morning on an adventure. We left at 9:30 for the local arena box offiice.
If you have to ask why after my opening line . . . then you must not have a toddler
Yes, the Wiggles are coming, the Wiggles are coming!!!!
This morning at 10:00 tickets went on sale to the public. Monday to Thursday was pre-sale and they were awful seats.
So in order to hand select my seats and save $28 in Ticket.com handling fees we went to see what we could get.
Our adventure took us to a not too nice section of town, but in the day I was ok. People thought I was nuts attempting this with a just 4 year old and 3 month old, but I'm wacky like that.
So we got to the arena and parked in the lot by the box office (right in front no less). With about 10 minutes before the sale I was #8 in line. Just before 10:00 they opened up 6 windows.
By 10:03 we were heading back to the car with FRONT ROW seats!!!!!
Holy cow, I was in shock. Now I know it was worth going down. In addition to saving $28 we got what seem like amazing seats. It should certainly be a special night that NHL will not forget in October.
C'est Moi

P.S. Sorry to Sam, but all of the blinky things still have Greg.
in my Big
Current Mood:

bouncy


While I was on the phone with M the call waiting kept going off. Two of the numbers were formers colleagues of mine. NOT a good sign.So I called one of them up and got news that quickly made the above seem like nothing.

The librarian at our school was on vacation with her family. Her daughter went with her, but her husband stayed at home to work. She kept trying to call him, but he wasn't answering. She was alarmed and had her brother-in-law go to check. He found him in bed. He had passed away from a heart attack at 46 years old.

I can't even imagine. Once again this is something to make me remember to savor the moments with my loved ones because you just never know. Please keep my friend and past student in your thoughts and prayers during this difficult time.

C'est Moi
Yesterday NHL's teacher that has been working with him over the summer called. M has been truly amazing with him. He's made so much progress in in the 6 weeks and everyone has noticed. Unfortunately M was calling to tell us that she will not be able to move with NHL to his new school. She will be moving to England to be with her future husband. I am crushed and have to figure a way to tell NHL. Still I consider ourselves to be blessed to have had her on Team NHL over the summer to make such progress before he begins PreK in a few short weeks. Now we shall see how the new provider is once she calls about it.
Current Mood:

sad